Location
Amersfoort International School is located on Noordewierweg in the Soesterkwartier, west of the historic city centre of Amersfoort. AIS will share the school building with the upper school groups of primary school De Kubus, until De Kubus moves to a new building. Eventually, the whole school building at Noordewierweg will be available for AIS.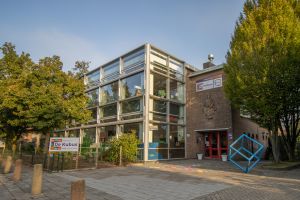 Renovation
The school building has a spacious hall and light classrooms. In the summer of 2023, the building will be renovated so that it reflects the vision and the programme of AIS. Our news bulletins, updates and photos may be found via this link!
Green playground
The splendid green playground is very suitable for learning by playing, discovering and inquiring. Our students are challenged to discover and explore.
Afterschool care
Currently, the afterschool care (in Dutch language BSO or buitenschoolse opvang) of Partou is located in the Noordewierweg building. After school, they care for students from schools in the neighbourhood in a friendly-furnished area. The children can also play outside in the school grounds or in the nature garden or even grow their own vegetables in a plot.
AIS has a partnership with Partou for out-of-school care for our students and childcare for younger children. More information may be found on our page Afterschool Care.
Accessibility
Amersfoort is centrally located in the Netherlands and is easily accessible by car and by public transport. The trainstation of Amersfoort Central is at walking distance from the centre and, by train, you can be in Utrecht in 15 minutes and in just over half an hour, in Amsterdam.
AIS is at 20 minutes walking distance from Amersfoort Central. There is also a direct bus from the station to the Noordewierweg. The school can also be reached by car.
Would you wish your child to integrate into Dutch society? Then we advise to bike to AIS!