Primary School De Kubus
Amersfoort International School is an independent international school. Formally, AIS is a department for Internationally-Oriented Primary Education (IGBO), linked to primary school De Kubus in Amersfoort. This school is, just as AIS, under the umbrella of KPOA.
De Kubus has two locations in the Amersfoort Soesterkwartier. The location on Noordewierweg will be shared with AIS in the coming years, until De Kubus moves to a new building in Amersfoort.
Green playgrounds
Learning through playing, discovering and inquiring does not only happen within the walls of the classrooms, but especially also outside. This is why De Kubus has developed natural playgrounds at the locations. Children are challenged to discover and explore.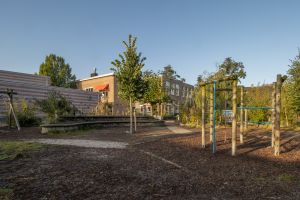 Learning together, working together, living together
At De Kubus children can be themselves and they learn to care for each other and the environment. The three core values of learning together, working together and living together form the basis of education. All children of primary school age are welcome, regardless of their origins or life philosophy. Everyone is unique and is allowed to be, make mistakes, learn from and with each other and have an own opinion.
Positive Behaviour Support
De Kubus ensures that there is a learning environment in which each child feels safe and at home. The school uses the method Positive Behaviour Support (PBS), a school-wide approach focused on creating a positive and safe school atmosphere.
Additional information
Additional information on primary school De Kubus may be found on the (Dutch language) website www.kbsdekubus.nl.